Greetings fellow detectives! Skye Blake reporting in about cat behaviorists… what's that? Who are they and why would you need one?
The information here is for general knowledge… always see your vet with questions about your cat's individual needs.
Who Is Skye Blake?
Skye Blake, Cat Info Detective, is a curious cat researcher (not a vet or behaviorist) who sniffs out expert, reliable sources about cats, studies their information, then passes it on to you!
Sometimes there's not enough evidence for easy answers, so Skye gives you all sides, explains the situation as thoroughly and clearly as possible, and links you to experts on each page.
Sources are at the bottom of each page so you can do more snooping.
What's a Cat Behaviorist?
A cat behaviorist is someone who specializes in understanding cat behavior… what makes us tick!
In recent years as more people have brought cats into their homes, there's been a growing interest in cat behavior and helping people resolve problems with their cats.
Behaviorists deal with problems like cats fighting, scratching, biting, and peeing outside the litter box.
Television shows like "My Cat From Hell" and "Cats 101" have brought attention to the need for behaviorists and has been helpful for many people.
You can find people advertising themselves as cat psychology professionals, cat whisperers, trainers, feline or animal behaviorists, cat behavior consultants, or experts.
There are also veterinary feline behaviorists who are experts in both medical and behavioral problems.
When Do I Need a Behavior Expert?
You should consider hiring a behavior expert when you need help if you can't figure out how to deal with problems like inappropriate peeing outside the litterbox, scratching, fear, fighting, biting, cats not gettign along.
There's information available (yes, even at this site!) to help you know what to do, but there are times when you need extra help.
How Do I Know Who's Legitimate?
Since anyone can put up a website and claim to be a cat expert, you should know what to look for when hiring someone.
There are currently no regulations or licensing requirements in the U.S. that govern who can call themselves a cat behavior expert.
You'll discover quickly that cat behaviorists aren't on every corner, but they can usually work with you by video conference if the distance is too great to travel.
Some of them give priority to urgent situations such as a cat peeing outside the litter box or fighting.
Main Considerations
There are 4 main things to consider when looking for a behaviorist…
Behavior adjustment methods – positive association only, no punishment
Reputation
Consultation costs – including if any travel is involved
Level of education/credentials
Behavior Adjustment Methods
What methods does the person use when dealing with cats? What is the basic philosophy of their approach?
Is it all positive reinforcement methods that build trust between you and your cat?… Yes!
Or is punishment like swatting or spraying with water part of their approach?… No!
Costs
Be sure you understand any costs, including beginning and follow-up consultations, travel and anything else involved.
Don't be afraid to ask questions.
Reputation
Talk to the staff at vet offices to discover more about the expert's reputation and abilities.
Ask for references you can contact directly and check Yelp, Nextdoor, and other review sites online.
Be sure they work primarily with cats, not just animals in general.
One thing to watch out for is anyone advertising "guaranteed results" or something similar… nothing is guaranteed with cats!
Education/Credentials
Credentials (diplomas, certifications, or titles) assure you that the expert has achieved a high level of education and expertise in their field.
In a newer field like cat behavior there are respected pioneers and well-known behaviorists that have learned totally through years of experience and observation.
They have, in fact, developed concepts and techniques that are now taught in behavior courses.
These experts are typically veterinarians or PhD's who specialize in cat or animal behavior, although there are a few exceptions such as Jackson Galaxy.
Others have taken courses and are certified and credentialed through respected organizations.
Still others have taken classes or simply decided they know all about cat behavior from their own cats and want to make this a career.
You'll have to decide if credentials, experience or a combination is most important for you.
The advantage of working with people certified by these organizations is that you know they've attained a certain level of education and skill to earn certification.
Those who have specific credentials are…
Board-Certified Veterinary Behaviorists
Certified Applied Animal Behaviorists
Certified Animal Behavior Consultants
What's a Board-Certified Veterinary Cat Behaviorist?
A "Board-Certified Veterinary Behaviorist (DACVB)" is certified as a Diplomate through the "American College of Veterinary Behaviorists" (the certifying board).
(Veterinary professional organizations are often called "colleges", which is different from the educational institutions most people associate with the word.)
This type of behaviorist has persevered through 4 years of university study to receive a bachelor's degree, then 4 years of vet school to become a DVM, then additional years (usually 3) in a specialty, in this case cat or animal behavior.
"Veterinarians are uniquely qualified to understand the interplay between medical problems and behavioral issues.
And unlike all other animal behaviorists, they can prescribe drugs like anti-anxiety medications to take the edge off impulses that lead to problem behaviors, all while teaching owners behavioral tricks for readjusting their pets."1 "What Credentials Does the Animal Behaviorist Have? 4 types of specialists to choose from." by estaff, Catnip Newsletter, Tufts University, Cummings School of Veterinary Medicine, Published: September 16, 2019, Updated: September 18, 2020
What's a Certified Applied Animal Behaviorist?
A "Certified Applied Animal Behaviorist" is a type of vet behaviorist certified through the Animal Behavior Society.
The requirements for certification are the same as for Board-Certified Vet Behaviorists, but they follow a different path to get certified.
As with Board-Certified behaviorists, these vets go through 4-year university programs, then 4-year vet school for a DVM degree, then do advanced training in animal behavior.
They must pass difficult and thorough oral and written exams, have supervised hands-on animal experience, and meet other requirements of the Animal Behavior Society.
What's a Certified Animal Behavior Consultant?
A "Certified Animal Behavior Consultant" is someone pursuing a career in any type of animal behavior who is certified through the International Association of Animal Behavior Consultants ("IAABC").
A Certified Cat Behavior Consultant has completed training and testing specifically for the feline species.
Those who are certified by the IAABC have gone through a rigorous training program and testing to be sure they have a good foundation of knowledge about animal behavior.
The IAABC is an organization in over 70 countries around the world with different levels of membership, depending on the skill levels and experience of members.
Its purpose is to support and promote behavior professionals at every level and stage of their career.
The IAABC also works with "other organizations and governments to codify the standards of practice of animal training, promote animal training as a recognized profession, and to support industry regulation that forwards the humane practice of animal training."2 International Association of Animal Behavior Consultants (IAABC)
"All our members are bound by the Joint Standards of Practice and Code of Ethics, which include a commitment to using LIMA, the Least Intrusive, Minimally Aversive effective intervention when working with animals and their human companions."3 International Association of Animal Behavior Consultants (IAABC)
How Do I Find a Cat Behaviorist?
Start by discussing the situation with your vet who might be able to recommend a specific expert for your individual needs.
If you're interested in working with someone not a member of an organization, ask questions about their qualifications and check references carefully.
Be sure they use positive reinforcement methods and specialize in cats, not just general animal behavior.
Since many of these experts do video conferences you don't have to be located near them to get their help.
Probably the safest way to find someone is through one of these reputable organizations.
American College of Veterinary Behaviorists
American Veterinary Society of Animal Behaviorists
International Association of Animal Behavior Consultants
Well-Known Behaviorists
There are some cat behavior experts who are well-known in the cat world and beyond.
One thing they all have in common is the desire to keep cats in homes and out of shelters.
The more people understand about their cats and learn how to encourage the behavior they want, the less likely the cats will end up in shelters, euthanized, or on the streets.
Here are a few well-known experts… (this is not an exhaustive list).
Some links below are for Amazon… I make a small commission from them.
Dr. Bonnie Beaver is a professor at the Texas A&M College of Veterinary Medicine & Biomedical Sciences (CVMBS).
She teaches classes on animal behavior, animal welfare, and other veterinary skills.
Dr. Beaver is one of the pioneers in the field of cat and animal behavior, a founding member of the American College of Veterinary Behaviorists (ACVB), and its executive director for more than 25 years.
Her influence in the world of cat behavior is substantial, having written one of the most widely used textbooks for veterinarians, "Feline Behavior: A Guide for Veterinarians".
Dr. Beaver "has played an active role in 30 veterinary organizations during her career, including serving as president of the AVMA from 2004-2005 and founding the American College of Veterinary Behaviorists and the American College of Animal Welfare."4 AVMA Awards Beaver For Contributions To Organizational Veterinary Medicine (tamu.edu)
"'All people who like animals have an interest in animal behavior, but they don't understand how to put what an animal does into context,' [Dr.] Beaver said.
'This has become particularly so as the population has moved from the farm to the city, where we spend our lives with one or two animals at a time, instead of with lots of them'.""5 AVMA Awards Beaver For Contributions To Organizational Veterinary Medicine (tamu.edu)
"'As veterinarians, it is important to be able to put context with behavior so that we can help patients grow into mentally and physically healthy animals and stop behavior problems as they develop,' she said.
'This keeps an animal in the home and promotes a healthy human-animal bond'.""6 AVMA Awards Beaver For Contributions To Organizational Veterinary Medicine (tamu.edu)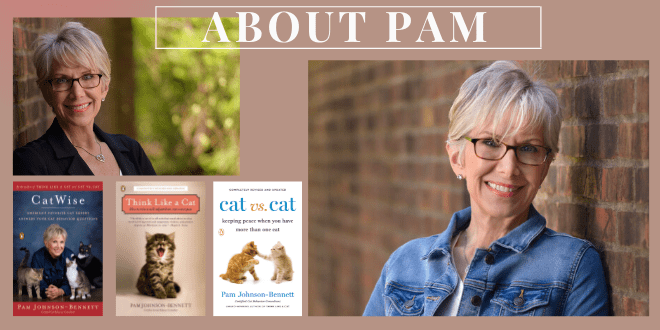 Pam Johnson-Bennett has been studying and dealing with cat behavior since the early 1980's, and is a pioneer in the field, especially in dealing with multi-cat situations.
"Pam's ground-breaking Think Like a Cat approach to cat behavior has been featured and profiled worldwide through the years…
…Her books are considered the "cat bibles" when it comes to understanding felines and what makes them tick."7About Cat Behavior Expert and Author Pam Johnson-Bennett, catbehaviorassociates.com
They have been used as texts for behavior courses and are a main influence in much of the info available on websites (including this one!), tv shows, and in books about cat behavior.
"Pam Johnson-Bennett was vice president of the International Association of Animal Behavior Consultants and founded the IAABC Cat Division where she served as its longtime chair for 8 years.
She has served on many Advisory Boards, including The American Humane Association, Tree House Humane Society, and Daily Paws magazine."8About Cat Behavior Expert and Author Pam Johnson-Bennett, catbehaviorassociates.com
Discover more about Pam and consultations at "Cat Behavior Associates, LLC".
Mieshelle Nagelschneider, Certified Cat Behaviorist™, (she coined the term) studied at Oxford and Harvard Universities, as well as the Royal School of Veterinary Studies at the University of Edinburgh.
She's been called "the cat whisperer" and has written a book by that name on cat behavior that's used as a textbook for certifying cat behaviorists globally.
For over 20 years, Mieshelle has used a scientific approach based on feline biology when analyzing cat behavior to help owners deal with problems.
"As the founder of The Cat Behavior Clinic, she and the veterinary team have been analyzing cat behavior and solving their issues in over 30 countries…
…Mieshelle is the founder of the first cat-only behavior clinic practice in the United States."9Certified Cat Behaviorist – The Cat Behavior Clinic
She is also actively involved as the research expert and cat behaviorist for National Geographic and NatGEO Wild television shows and other documentaries and is the host of the international version of "My Cat From Hell".
Mieshelle gives lectures to veterinarians and shelter workers around the world, helping them understand and be able to help owners to solve behavior problems they thought couldn't be fixed.
Discover more about Mieshelle at The Cat Behavior Clinic.
Dr. Nicholas Dodman is a highly respected Board-Certified Veterinary Behaviorist.
Originally from England, he graduated from Glasgow University Veterinary School, where he interned, then joined the faculty, specializing in surgery and anesthesiology.
He immigrated to the U.S. in 1981 and joined the faculty of Tufts University School of Veterinary Medicine.
Dr. Dodman has focused on behavioral pharmacology and animal behavior using drugs to help resolve behavioral issues.
Dr. Dodman founded the Animal Behavior Clinic at Tufts University in 1986 and then became board certified in animal behavior from American College of Veterinary Behaviorists (ACVB).
He is also board certified from the American College of Veterinary Anesthesiologists (ACVA).
Dr. Dodman has written bestselling books on dog and cat behavior, textbooks and 100+ articles in scientific journals and books.
He also is a frequent guest on animal podcasts, radio, and television shows.
"Dr. Dodman is currently Professor Emeritus at Tufts University and Chief Scientific Officer at the Center for Canine Behavior Studies."10 Nicholas Dodman, BVMS, DACVB, DACVAA
Discover more about Dr. Dodman's work at Nicholas H. Dodman, BVMS, DACVA, DACVB, Cummings School of Veterinary Medicine (tufts.edu) and Nicholas Dodman, CCBS (centerforcaninebehaviorstudies.org)
Dr. Koski is a cat behavior and training consultant with "specialized and advanced certificates in Feline Training and Behavior from the Animal Behavior Institute."11 About Feline Behavior Solutions – Cat Behavior Consultants
She holds "a doctorate (Ph.D.) in Fishery and Wildlife Biology from Colorado State University, and had a career as a biologist with the U.S. Fish and Wildlife Service for over ten years."12 About Feline Behavior Solutions – Cat Behavior Consultants
Dr. Koski created her business, Feline Behavior Solutions, in 2014.
She is on the Board of Directors of a no-kill cat rescue, Furry Friends, volunteering as their cat behavior expert both before and after adoption.
She has worked with the Humane Society for Southwest Washington, helping "connect under-socialized cats with inmates at a nearby minimum-security prison."
She taught inmates about cat behavior and helped them socialize cats who lived with them until ready for adoption.
Discover more about Dr. Koski at Feline Behavior Solutions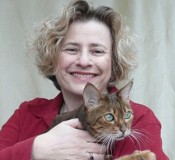 Marilyn Krieger is a Certified Cat Behavior Consultant known as The Cat Coach, who works with clients around the world.
She graduated from University of California, Davis and San Jose State University (MA), and is "certified through the International Association of Animal Behavior Consultants. She is the former chair of the Cat Division and former member of the board of directors of the IAABC."13The Cat Coach | About Marilyn Krieger
Marilyn writes articles about cat behavior for "Catster" and has written for Cat Fancy Magazine in the past.
She also writes articles in professional journals such as Catnip, (Tufts University), and Animal Behavior Consulting: Theory and Practice, (IAABC).
Marilyn's book, Naughty No More! "…focuses on changing unwanted behaviors through clicker training, environmental management and other positive reinforcement techniques".14The Cat Coach | About Marilyn Krieger, Cat Behaviorist
She guests often on tv and radio shows discussing tips on cat behavior and clicker training.
Marilyn is known to be "one of the foremost behavior experts on Bengals, Savannahs and other domestic cats who have recent wild cat ancestors and for 15 years spearheaded coordinated rescue work in California for these beautiful felines."15The Cat Coach | About Marilyn Krieger, Cat Behaviorist
Ingrid Johnson is a vet technician, office manager and cat groomer at Paws Whiskers and Claws, a cat-only vet hospital in Georgia.
She is a Certified Cat Behavior Consultant (IAABC) and has been a co-chair of their Cat Division.
Ingrid lectures at vet conferences (ACVC, VMX, and AAFP), educating veterinarians and technicians about cat behavior.
She also helps shelters teach their staff and volunteers how to deal with the challenges cats face in those environments.
Ingrid is also the co-director of the Paw Project Georgia chapter, dedicated to ending the de-clawing of cats.
Ingrid and Dr. Mikel Delgado have studied and developed the concept of using food puzzles as part of enrichment for cats, a particular interest for them both.
Their website foodpuzzlesforcats.com is often referred to by experts who recommend the use of puzzles.
Discover more at Ingrid Johnson, CCBC, Certified Cat Behavior Consultant and foodpuzzlesforcats.com.
Mikel Delgado is a "Certified Applied Animal Behaviorist (Animal Behavior Society), a Certified Cat Behavior Consultant (International Association of Animal Behavior Consultants), and an Affiliate Member of the American Veterinary Society of Animal Behavior".16 Dr. Mikel Maria Delgado PhD (mikeldelgado.com)
She is the owner of "Feline Minds" and does consulting work for individuals, shelters, rescues, and corporations.
Dr. Delgado is also the cat behavior expert for the blog "Rover".
She worked for a number of years volunteering and as an employee at the San Francisco SPCA (Cat Behavior Dept.) before leaving to pursue her studies.
Since 2017, Dr. Delgado has a PhD in Psychology from UC Berkeley, particularly focused on animal behavior ability to understand.
She "worked as a postdoctoral fellow at the School of Veterinary Medicine at UC Davis for 3.5 years, where [she] researched the social behavior of domestic cats and the development of orphaned neonatal kittens."17 Dr. Mikel Maria Delgado PhD (mikeldelgado.com)
"[Her] research has been published in Psychological Bulletin, the Journal of Feline Medicine and Surgery, Royal Society Open Science, Applied Animal Behaviour Science, the Journal of Applied Animal Welfare, the Journal of Comparative Psychology, Anthrozoos, and the Proceedings of the National Academy of Science."18 Dr. Mikel Maria Delgado PhD (mikeldelgado.com)
Dr. Delgado co-authored "Total Cat Mojo" with Jackson Galaxy and is the author of the book "Play with Your Cat!", (to be published in 2024).
Jackson Galaxy, "The Cat Daddy", is an example of someone who has learned "on the job".
He has 30 years of experience working with cats and people in both animal shelters and private practice.
Jackson became popular with his tv show "My Cat From Hell" showing what cat's need and how they think.
He emphasizes positive ways to help cats that anyone can do, including environmental enrichment ("catification", a term he coined).
Jackson has co-authored four books… "Cat Daddy", "Catify to Satisfy", "Catification," and "Total Cat Mojo".
He also has created many entertaining and informative videos on understanding cat behavior.
Discover more about Jackson Galaxy and consultations at "Jackson Galaxy.com" and his YouTube channel.
Check out more specialists at "Veterinary Specialists – What Kinds Are There?"
---
Sources
Sources used on this website are either primary or secondary.
Primary sources are always preferable and have the most reliable information because they're original and directly referenced.
Scientific abstracts and data are good examples of primary sources.
Secondary sources are weaker because they usually consist of opinions or articles that give no sources of their own.
However, sometimes they refer to primary sources.
When I use secondary sources, most are those with some authority, such as veterinarian or cat behaviorist books and articles.
List of Sources
A-C
American College of Veterinary Behaviorists
American Veterinary Society of Animal Behavior
Cat Behavior Expert and Author Pam Johnson-Bennett, catbehaviorassociates.com
Cattitude Feline Behavior Counseling, Jane Ehrlich, Cat Behaviorist, cattitudebehavior.com
Certified Cat Behaviorist – The Cat Behavior Clinic – Oxford- trained, Mieshelle Nagelschneider
D-G
Dr. Marci Koski, CFTBS, CFTBP, Feline Behavior Solutions
"Feline Behavior: A Guide for Veterinarians" by Bonnie V. Beaver, DVM, MS, Dept. of Small Animal Medicine and Surgery, College of Veterinary Medicine, Texas A&M University, W.B. Saunders Co., 1992
"Finding Animal Behaviorists …know the credentials to look for", Cat Health Detective
Food Puzzles for Cats, foodpuzzlesforcats.com
H-L
"How to Become a Cat Trainer | Cat Trainer School" (veterinarianedu.org)
Ingrid Johnson, CCBC, Fundamentally Feline
Ingrid Johnson, CCBC, Paws Whiskers and Claws
International Association of Animal Behavior Consultants (IAABC)
M-N
Marilyn Krieger, CCBC, The Cat Coach®
Mieshelle Nagelschneider, Certified Cat Behaviorist™
"My House Is Not Your Toilet", Decoding Your Cat, American College of Veterinary Behaviorists, Editors Meghan E. Herron, DVM, DACVB, Debra F. Horwitz, DVM, DACVB, Carlo Siracusa, DVM PhD, DACVB, DECAWBM, Houghton Mifflin Harcourt, New York, 2020, pp. 165-189
"Nicholas Dodman, BVMS, DACVB, DACVAA", Humane Society Veterinary Medical Association (hsvma.org)
O-Z
"The Cat Whisperer", by Mieshelle Nagelschneider, Bantam Books, The Random House Publishing Group, New York NY, 2013, www.bantamdell.com
"Think Like a Cat, How to Raise a Well-Adjusted Cat – Not a Sour Puss", by Pam Johnson-Bennett, Certified Animal Behavior Consultant, Penguin Books, Penguin Group (USA) Inc, New York, NY, 2000, 2011
"Total Cat Mojo", by Jackson Galaxy with Mikel Delgado, PhD, Tarcher Perigree, Penguin Random House, LLC, New York, NY, 2017
"What Credentials Does the Animal Behaviorist Have? 4 types of specialists to choose from." by estaff, Catnip Newsletter, Tufts University, Cummings School of Veterinary Medicine, Published: September 16, 2019, Updated: September 18, 2020
Updated September 8, 2023